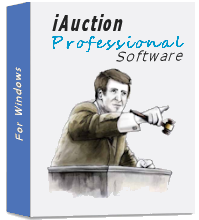 iAuction Professional is desktop software that does local and public online auctions. Any auction. Quickly, efficiently, accurately.
The 5th generation of our ever popular desktop auction software is here! Redesigned and rebuilt from the ground up, it retains the best of the old 4th generation iAuction application and adds stunning new features.
It has a brand new graphic interface that is fast, pretty, functional and very easy to use. Built using the very latest .NET technology, this user friendly application will see you through many years. You can still afford the best desktop auction software in the business.
NO capital outlay!
Pay only when you need it.
Let's not mislead you. This software is not free, but you can
download and install it for free
.
If you know how to download you can securely download and install right
now
, otherwise
we can do it
for you.

Download + free evaluation for 7 days
Credits available 24/7 online
Free remote support and training
You can download iAuction Professional from this website. When you register iAuction Professional you'll receive a free 7 day credit package so that you can test and evaluate a fully functional application with NO OBLIGATION to buy when the credits expire. When you are satisfied that iAuction Professional will work for you, simply buy a credit package, and away you go!

iAuction Professional does not require an Internet connection after it's installed, but you do need a connection to download the installers, register your business, and purchase credits. It gets installed on your PC or laptop and only runs under a Windows operating system. You can hook up as many additional computers as you require via a local network. All can be working with the same auction, at the same time.
Get personal attention.
Free updates when updated software is released.
Copyright © 2022. Pro Software.